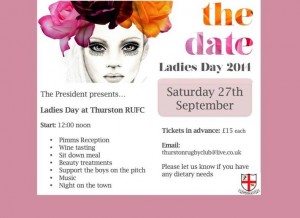 A message from our mates at Thurston RFC
"We hope you are well and your season has kicked off to a good start!
As you will be aware Woodbridge is due to be coming over the Robinson Field to play us on Saturday 27th September. To celebrate this double home game for us, our esteemed club president 'Andrew Speed' will be hosting our first ever Ladies Day.
We would like to extend the invitation to all Woodbridge players to bring their ladies along to enjoy a drinks reception, wine tasting session, sit down meal, beauty treatments and of course a game (or two!) of rugby!
I have attached our flyer for your reference and will also be sending some in the post to your clubhouse, could I ask you to pass this on to all those you think may like to attend and in turn support all the boys on the pitch!
We would like to gain an idea of numbers as soon as possible, so please if you have any interest or any questions, please do not hesitate to contact me directly on thurstonrugbyclub@live.co.uk"